On-site therapy takes the hassle of travel out of the equation. Whether on the job or in the privacy of your home this mobile feature can accommodate you. It's easy to arrange during or after work.
Corporate Massage
Corporate massage reduces stress and increases alertness and productivity. This is perfect for wellness fairs, employee appreciation day or during projects with intense deadlines. Health care expenses are about 50% greater for workers who report high levels of stress and approximately 40% of job turnover is due to stress.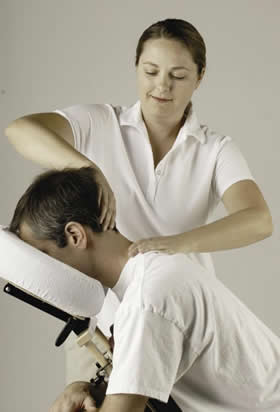 Benefits of On-site Chair Massage
In your workplace with little space needed
Available during the work day or local, national and international training seminars
Reduce neck stiffness, shoulder tightness and headaches in 10 minutes – Feel better right away!
Reward employees for hard work, reaching goals or completing a project
Use of comfortable massage chair. Remain fully clothed. No oils. No lotions.
Perfect for Wellness Fairs, Special Events and Trade Show Booths
Home Visits
Use of comfortable warming table, all lotions and oils provided.
Easy and hassle free
Continued relaxation after the session as there is no need to travel.
Flexibility in scheduling appointments.